ABOUT
At Dashing Diva, we work with our customers to create experiences that bring a true sense of satisfaction to everyone using our nail salons.
We don't just think about the time each customer spends in the salon we also think about what outfits our customer will wear, which neighborhoods she will spend time in and who she will be meeting between now and her next visit.
By paying careful attention to our customers' work and leisure styles and delivering a level of service that goes beyond their highest expectations, we can provide each and every customer with a truly individualized experience.
The sense of trust and safety that you enjoy when you choose Dashing Diva.
The sheer joy of having the kind of nails you'll find yourself admiring again and again.
We aspire to be the kind of brand that can deliver both of these things.
When you have great-looking nails, it brings an entirely new dimension to your everyday life
Your nails are a part of your appearance that you notice all the time. That's why getting your nails done feels like the ultimate reward, something that gives you confidence and puts spring in your step.
At Dashing Diva, we want to help hardworking women everywhere feel on top of the world by bringing them a sense of beauty and confidence.
Beauty and confidence for each and every customer
SALON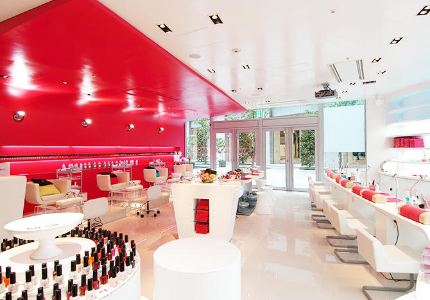 Shiodome City Center Salon
Option lists are available in both English and Chinese in our salons.
Shiodome City Center B2F, 1-5, Higashishinbashi, Minato-ku , Tokyo
A 1-minute walk from Shiodome Station on the Toei Oedo Line
(closest station)
A 2-minute walk from Shimbashi Station on the Yurikamome Line and Toei Asakusa Line
A 3-minute walk from Shimbashi Station on the JR/Tokyo Metro subway lines
c DASHING DIVA International All Rights Reserved.